Clockify.me
Accessibility

User Interface

Reporting

Team Support

Price

Sign-Up Options
Time tracking is a basic workplace principle dating back to punch cards. Tracking the time of each employee helps everyone manage their hours better (under the right circumstances) and can even be legally necessary in some countries / industries. Freelancers also benefit from time-tracking when their projects are paid by the hour.
There are many options available when it comes to tracking one's time. Toggl is a beautiful time tracker that I've used for some years already, and its mobile app is a pleasure to use when regularly working on projects. Toggl have undergone some recent changes and while it still has a free plan, it's maybe not as feature-full as some would hope.
Enter Clockify: A free team-oriented time tracker that boasts Google login support so you can get your team off the ground in no time. It also supports simple account creation which works fine. You can connect both a custom account and a Google account to the same email address so you can switch between them in the interface.
Clockify maintains a basic time tracking list of entries so you can see your history easily when logged in: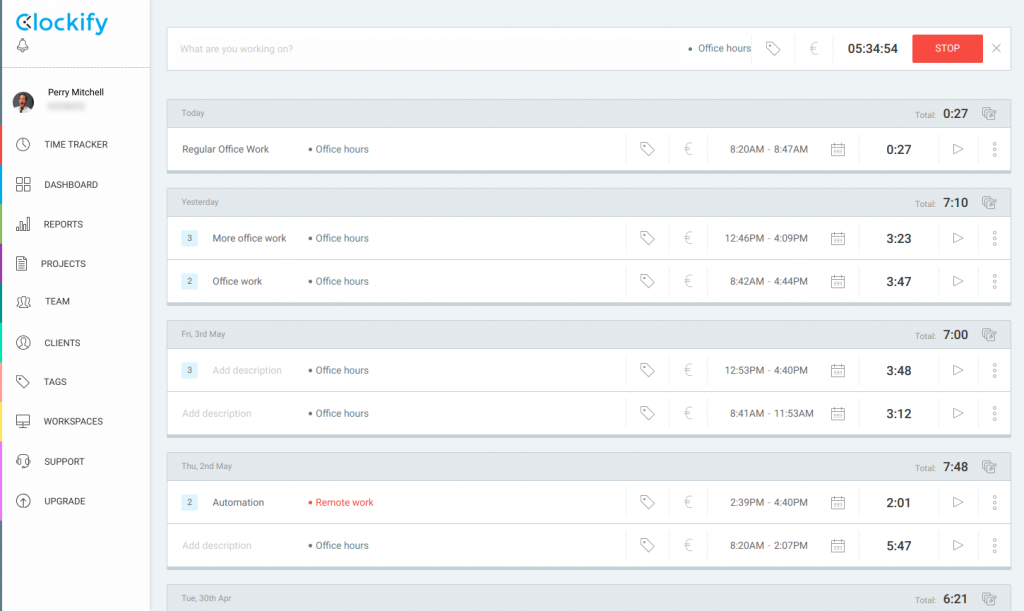 It supports tagging categorising for grouping entries so you can report on them later, and they typically group in the UI by day and category.
As expected, a start/stop button is available for starting a timer, as well as an easy switch to add custom time periods that were not tracked directly in the app: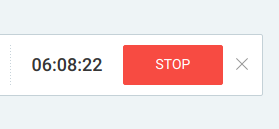 Clockify also supports hourly costs, so you can attach value to your timed work:
The dashboard and other widgets automatically support splitting by category.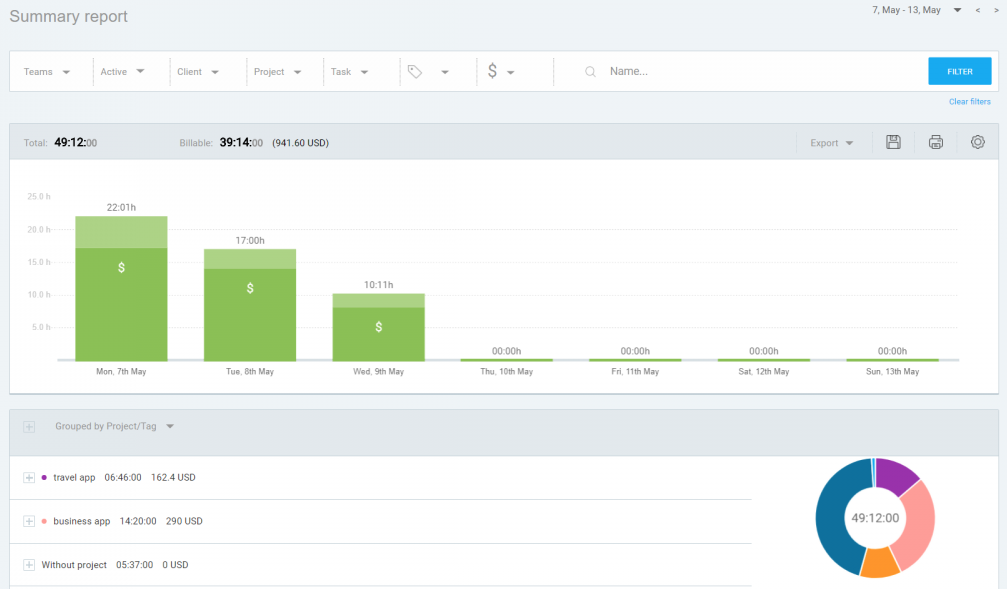 Reporting provides some additional insight and options you can configure for filtering and slicing as you wish. You can also export to various formats or go straight to Google Drive, for instance.
Accessibility
Clockify is great because it provides apps for every platform. You can just use the webpage if you wish, but more frequent usage might benefit from installing the desktop companion or mobile app.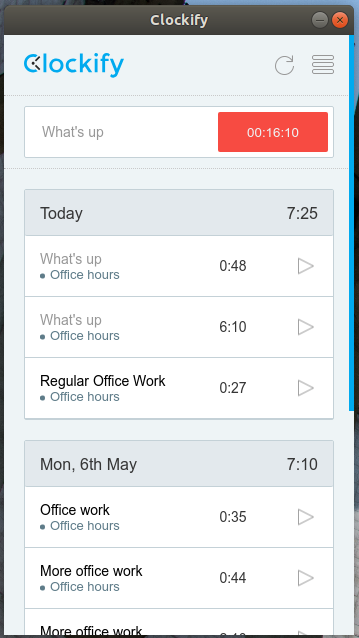 While the mobile app works extremely well (the reason I'm giving this section a rating of 3.5), the desktop application contains a quirk which can make it somewhat frustrating to use. The starting and stopping of the timer in the desktop application sync's with your other app instances, but if you start/stop the timer elsewhere, it is not reflected in the desktop app. To update the timer to be in sync with other timers you need to go to Menu > Settings > Done. The timer will be in sync after this.
Be careful stopping out-of-sync timers here, however, as doing so might add the gigantic value to your session (I once had mine sitting at 65 hours when I had actually stopped it elsewhere at 8).
User Interface
The user interface is quite simple and somewhat easy to use, but it is not intuitive. There's no control over strictness as to force users to enter certain values or even to set categories or tags. Setting tags may not be immediately obvious to some users.
The Play button icon in the desktop application doesn't indicate exactly what it does, and seems to convey to the user that they can simply continue that item. The button, in fact, starts a brand new timer.
Apart from looking a bit dated perhaps, the UI works well enough to get the job done. After repeat use getting around the interface comes naturally.
Conclusion
I'd highly recommend Clockify – It really does the job and they have a support team handy if you get stuck along the way. Being free, you really can't complain about the small imperfections but I guarantee you that none of them are really show-stoppers.
Your team will get along with Clockify just fine and you'll find that the reporting performs quite well, with drill-downs being both obvious and quite useful.