Niko Dimmer Switch
Build

Installation

Ease of Use

Reliability

Price
The Niko Dimmer switch is a wireless and battery-less 4-button switch that can be used to easily control Philips Hue smart lights. The switch doesn't require any connection to the mains power nor any batteries to operate – it is a kinetic energy switch which derives enough power from a press to send a signal to the corresponding light (similar to the Philips Hue Tap switch).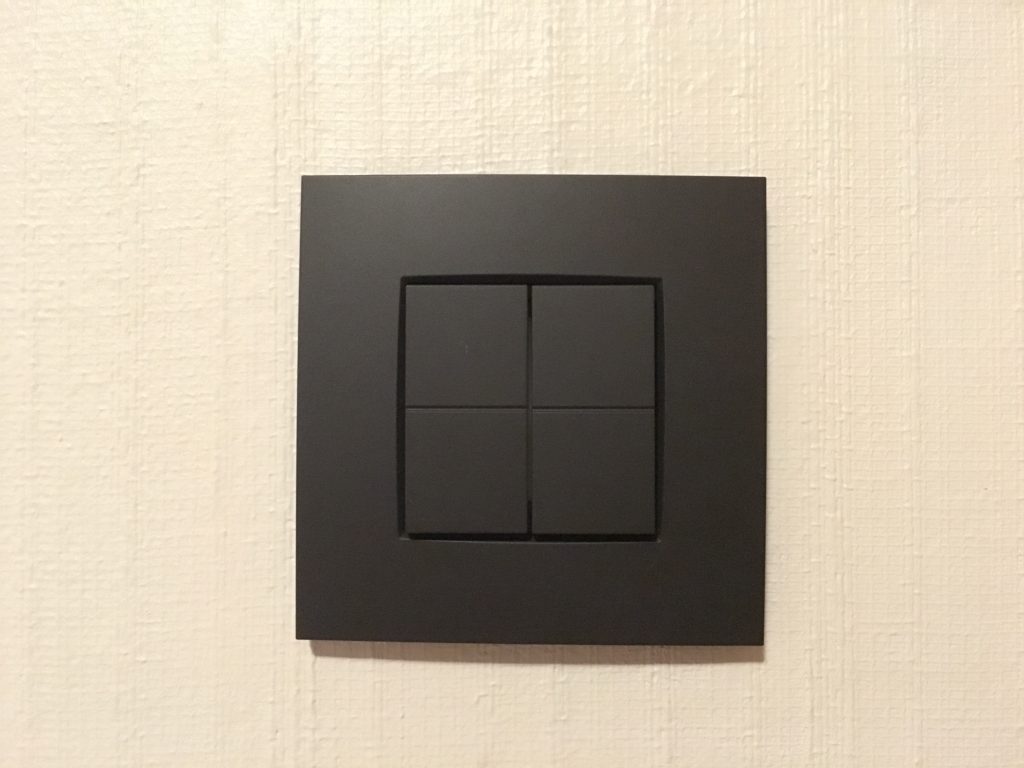 The switch is a European style square switch that mounts to most switch mounting formats. It can be attached by mounting it to an existing fitting, by screwing it into the wall or simply by double-sided tape:
The switch uses the ZigBee protocol to communicate with a light fitting, which suits the low-power environment of the dimmer. Setting up the switch in the Philips Hue iOS app is quite straight forward and the switch's functions (button presses) are recognised immediately. The buttons can be configured to set different lighting states within the app:
The Niko switch accessory

Configuring the separate buttons
The switch will be found under the "Friends of Hue" accessories group within the app, under Settings.
On the topic of the switch not needing power – this is the main feature of the switch – Not everyone is going to need the Niko dimmer switch for Hue. I happen to live in a house that doesn't provide a ground or neutral wire at many of the switches, and so I cannot run a standard smart switch as they usually require constant power (a return wire and a live wire). The Niko foregoes the need to have any power provided to it and allows you to fix power to the light so that it cannot be disconnected – leaving your smart house software completely in control of the light state.
Build
The build quality of the switch is excellent. The buttons feel sturdy when pressing them and nothing feels loose or flimsy once attached to the wall. Providing that you choose one of the first two methods of fixing it to the wall (not the tape), the switch should feel like it simply grew out of the wall – rock solid and fixed.
The surface is not terribly glossy, which is nice, and it seems easy to clean with little tendency to pick up grease from touching it over and over again. I've had mine for several months without so much as a wipe with a cloth and it still looks fantastic.
Installation
The installation process was quite easy and the instructions very clear. It does require that you're reasonably comfortable with removing and replacing electrical components within your house, but this is to be expected if you're changing lights or light switches.
In most cases you'll be changing a wired switch out for this wireless one, so you'll more than lightly need to buy wire terminators to ensure that the unused live wires behind the switch don't short out and start a fire (though they do need to remain connected to keep the power to the light on). In some countries doing this sort of work yourself may not be entirely legal, so be sure to check your local laws before attempting any of this.
Ease of Use
The switch is quite easy to use when compared with other kinetic switches (it's somewhat easier than the Hue tap, but it feels nicer at least). That being said, kinetic switches like the Niko still require reasonable effort to depress, and it should be understood that they don't feel like regular switches. Regular switches usually depress immediately with almost no effort, but kinetic switches require a bit of a push.
I've recorded myself pressing mine so you can perhaps get an idea:
It's definitely easy, but those not expecting the increased resistance may be put off by it at first. After some days of use however you won't notice it at all.
Reliability
The switch feels strong and reliable to the touch and press, and since I've had it installed I haven't felt it twinge or weaken at all. I have no doubt that it'll last many years of constant use, at this rate.
The signal that the switch sends to the light, however, is somewhat of a mysterious thing. It works almost always, but on occasion when trying to turn off the light, it fails. By fail I mean that it doesn't turn the light all the way off, but it dims it to almost off. The brightness of the light afterwards does not coincide with any setting I have in the app, and it simply seems to be some kind of purgatory the switch gets in. Pressing the power-off switch again does the trick and the light goes out. I'm not sure if this is a fault of the switch or just a defect in mine, but it can be slightly annoying from time to time.
Price
When I bought mine new at the end of 2018, I paid 450 Danish Krone (about
€60) for it. I feel this price is quite high for a light switch, especially a kinetic switch. Although the technology is brilliantly simple and highly useful, I do feel that at this early stage in this niche market it's still somewhat of a gimmick.
Decking out a whole house with these would be quite costly, but it would be a very quick and reliable way to provide your home with smart lighting.