IPVanish
Privacy

Applications

Speed

Price
VPN services, like IPVanish, allow you to connect to web sites and services as if you were sitting in another location. You route your internet connection and all requests from your computer through a VPN service's endpoint servers, effectively rendering most forms of tracing ineffective. They're a great privacy tool in this regard.
VPNs also provide many other benefits, such as web service testing (as if you were in another country for instance) and remote access to work networks. As VPNs effectively encrypt all routed traffic between the client and the endpoint, at least, users can bypass many firewalls and ISP censorship attempts. Website blocked in your country? American service blocking EU visitors on the basis of GDPR? Nevermind, just VPN into the states.
Bittorrent is another highly common use of VPNs – allowing users to download files from service X while remaining undetectable. Some VPN services can be somewhat allergic to torrenting as the bandwidth requirements can be extreme, but not IPVanish, as you'll soon see.
IPVanish is a paid VPN service that allows you to connect anonymously to any of their many, many endpoints strewn across the globe. They have great applications across all major operating systems and mobile devices.
Privacy
IPVanish boasts that it's a log-less service that doesn't store connection records of their users. While they've had a small PR speed-bump some time ago, their current management expressly insist that this claim holds true. Having no logs stored means that in the case of an investigation, IPVanish would be able to refuse requests from authorities asking for logs as they wouldn't have stored any.

According to IPVanish's marketing material at the time of writing, they have "40,000+ IPs on 1,300+ servers in 75+ locations", so there's no shortage of endpoints available to connect through.
When connecting it's often best to just let IPVanish choose the best endpoint, and when the lists are as large as pictured (Amsterdam's endpoints) you're almost likely to get a different endpoint every time you connect.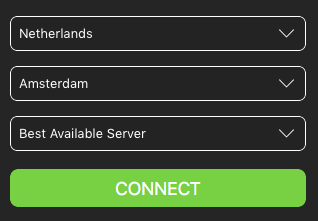 IPVanish uses AES 256bit encryption to encrypt all transferred data between you and the endpoint. They also provide a SOCKS5 proxy to further obscure your originating IP address so that you do indeed remain anonymous while using the service:
Your torrent activity is logged by your ISP, government-sponsored surveillance programs, and other third parties. But with IPVanish, you can fly under the radar while you torrent. Our SOCKS5 proxy feature allows you to maintain your online privacy by hiding your real IP address while passing your P2P traffic through an anonymous server.
Applications
IPVanish supports most major platforms with its desktop and mobile application suite.

The Windows and Mac desktop clients are perfect for anyone from basic to intermediate knowledge of VPNs. They're both easy to use and feature-rich, so they should suit most expected uses of such a service.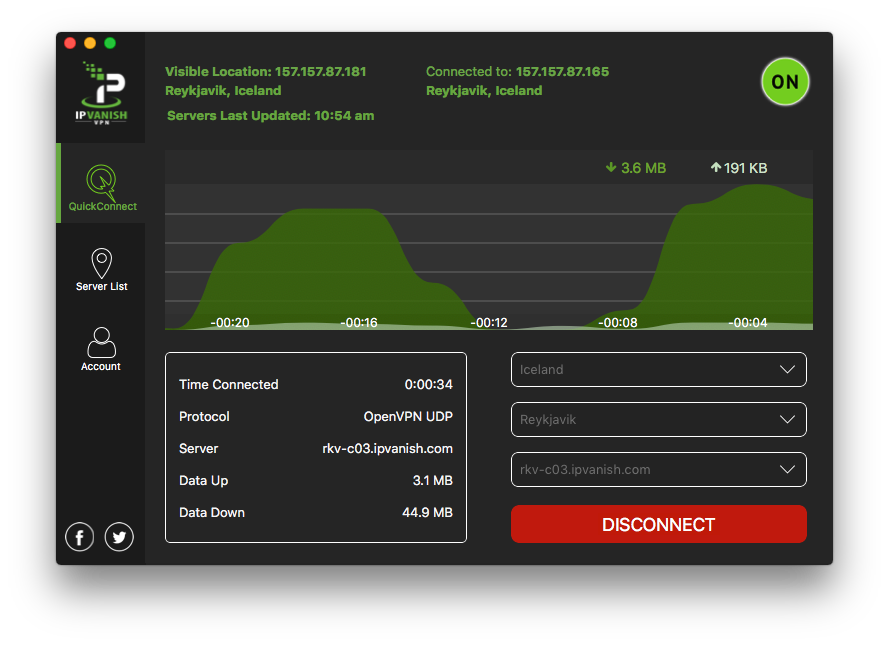 The Mac version even comes with an attractive little helper window in the menu bar: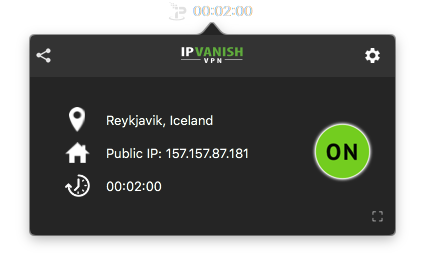 The UI makes it super simple to connect, disconnect and choose where you want to connect through. I've used it a lot at my job to do website and CDN endpoint testing, as well as getting around US/EU GDPR website blocks to test websites for clients.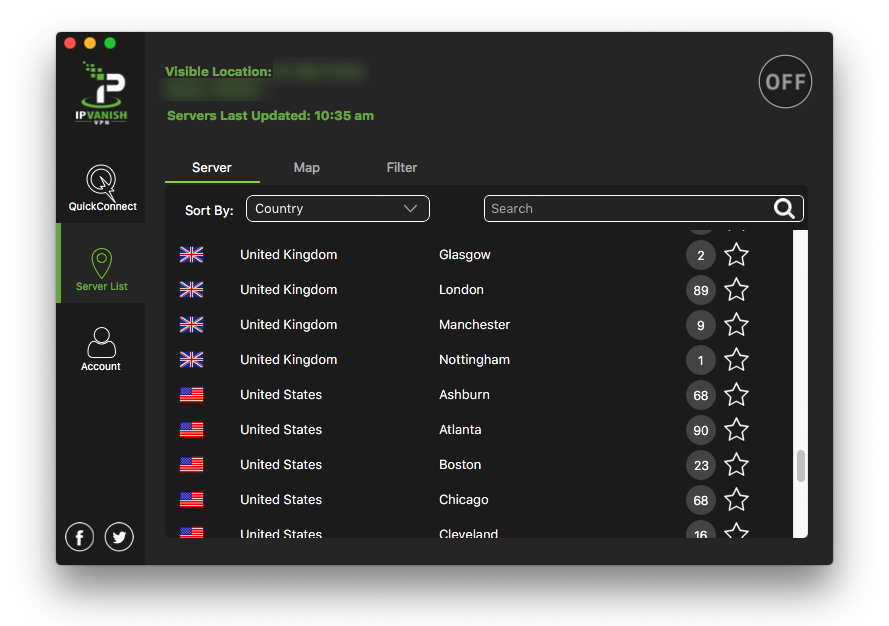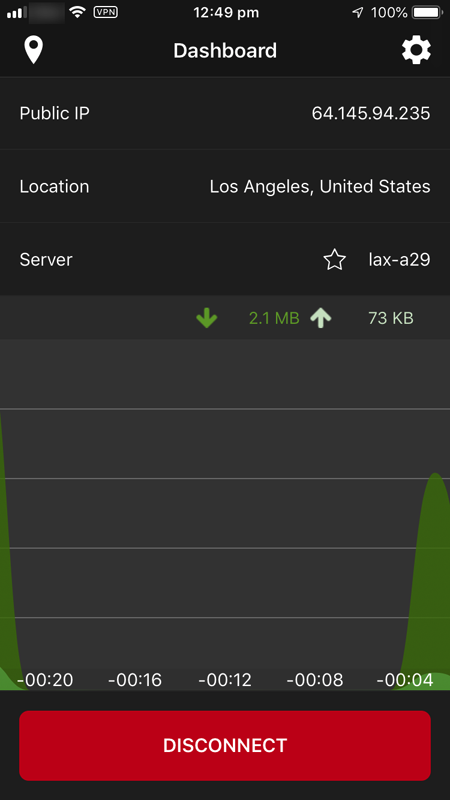 The mobile application has a similarly neat and easy to use interface which integrates well with the operating system. It allows for about the same connection options as the desktop applications.
The mobile app also supports On Demand connection so that it can connect automatically when an untrusted network is detected.
The mobile app is also something I've used in my work as websites also need testing and configuring on mobile devices, right? Having a VPN on my phone means I can test and debug any issues that arise at any time of day by connecting to the country where the issue was detected. This can often give great insight in to why something is behaving differently for a remote client than it is for you. Mobile VPNs are just as easy to use as the desktop applications when you're using something like IPVanish.
Speed
IPVanish's speed, while connected, has been thoroughly impressive throughout my years of using it. I've noticed very little slowdown and minimal latency increase. Below I took very recent screenshots of the speed while connected to a neighbouring country:
VPN Disconnected, LTE

VPN Connected, LTE
Speed and ping differences here, especially on LTE, are very negligible. When downloading/torrenting on desktop the speed differences are entirely unnoticeable when connecting within Europe.
Pricing
When I first signed up with IPVanish it was under some certain deal and I was paying less than $4 a month for it. Times have changed and almost all the well-known VPNs have gone up in price, but this doesn't mean that they're overly expensive.
IPVanish's best priced plan is the quarterly payment schedule – 3 months at a time will cost you $4.50 a month (at the time of writing). To compare, the cheapest plan that ExpressVPN has is $8.32 a month, and that's for its 12 month plan. I've used both Express and IPVanish and, in my unbiased opinion, they're very close – Though I've experienced less bugs and less confusing connection scenarios with IPVanish than I have with ExpressVPN. You're getting more VPN for less on IPVanish.
Trying to justify the price? It's worth it. The speeds are great, connections stable and the apps pleasant. It's hard to find anything close to IPVanish – because at this stage there really isn't.